Discover more from Matt & Lana
Writing Home of Matt and Lana Shaw
Why Steps And Bits?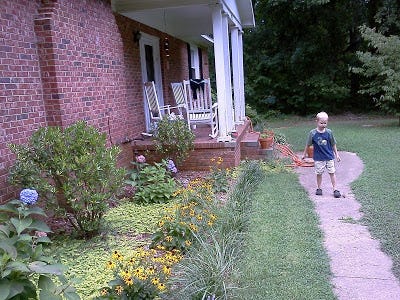 Earlier this spring our front porch was surrounded by overgrown bushes and weeds. I remember how it overwhelmed me. With little ones, multiple daily house chores, an infant organization that needed constant attention, an inbox in the several hundreds, my biweekly training courses in inner healing, and other ministries and relationships that needed to be maintained, gardening (as much as I love it) was struggling to find a place on my ever-increasing to-do list. Especially when it seemed so much needed to be done, and many days needed to be devoted to it.
I liken it to when you have a friend you care about that you haven't talked to in a long time, and you know you need to call her to catch up, but it's hard to find the right moment because you know that particular conversation will need several hours. So you don't. And more time passes, and now more hours are needed, and now it seems impossible to fit it in. The urgency of the hour swallows up the moments where important things can (and should) take place.
It was on a run that I felt God whispering, "It's the steps, it is all in the steps." Step by step, bit by bit. The lie so embedded on my conscious was exposed: It's all too much, you don't have time, it will take forever, it's impossible, there's no sense in trying. Truth, like long awaited rain, doused my senses and stirred me awake.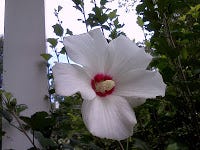 I took ten minutes the next day to pull some weeds. It was all I had. But I did it, small as it seemed. The next day I took 15 to trim the bushes surrounding my house. Throughout the week, I kept pulling weeds here and there, until one day I smiled as I went outside and realized they were gone. I transferred some day lilies from a friend's garden. I bought some phlox and planted it. Before long I had a garden with hydrangeas, black-eyed Susans, daisies, lavandar, verbena, creeping jenny and Rose of Sharon. That expanded to include mint, basil, parsley, rosemary, tomatoes, cucumbers, lettuce, strawberries, peppers, onions and two blueberry bushes. I can't say it's all doing good, and believe me, many days I am not on top of it--at all--but I've come a long way from the weeds earlier this spring. And it was all in steps.
I've tried to make a habit of calling my long-distance friends, even if I only have ten minutes. I let them know how long I can talk and tell them I'd rather call when I can instead of waiting for that huge chunk of time that never comes.
This idea of steps and bits I've realized is the key to reaching our heart dreams and desires. It doesn't happen overnight. But if we will believe that the five minutes we spend taking a step or planting a seed (even when it feels like nothing is happening, like nothing is changing) matter, then we'll surely soon find ourselves living in the fruit of those moments. We'll look about and see we've nearly reached the summit, and our goals will have gone from floating around in our minds to being realized in our hands.