Discover more from Matt & Lana
Writing Home of Matt and Lana Shaw
Lectio Divina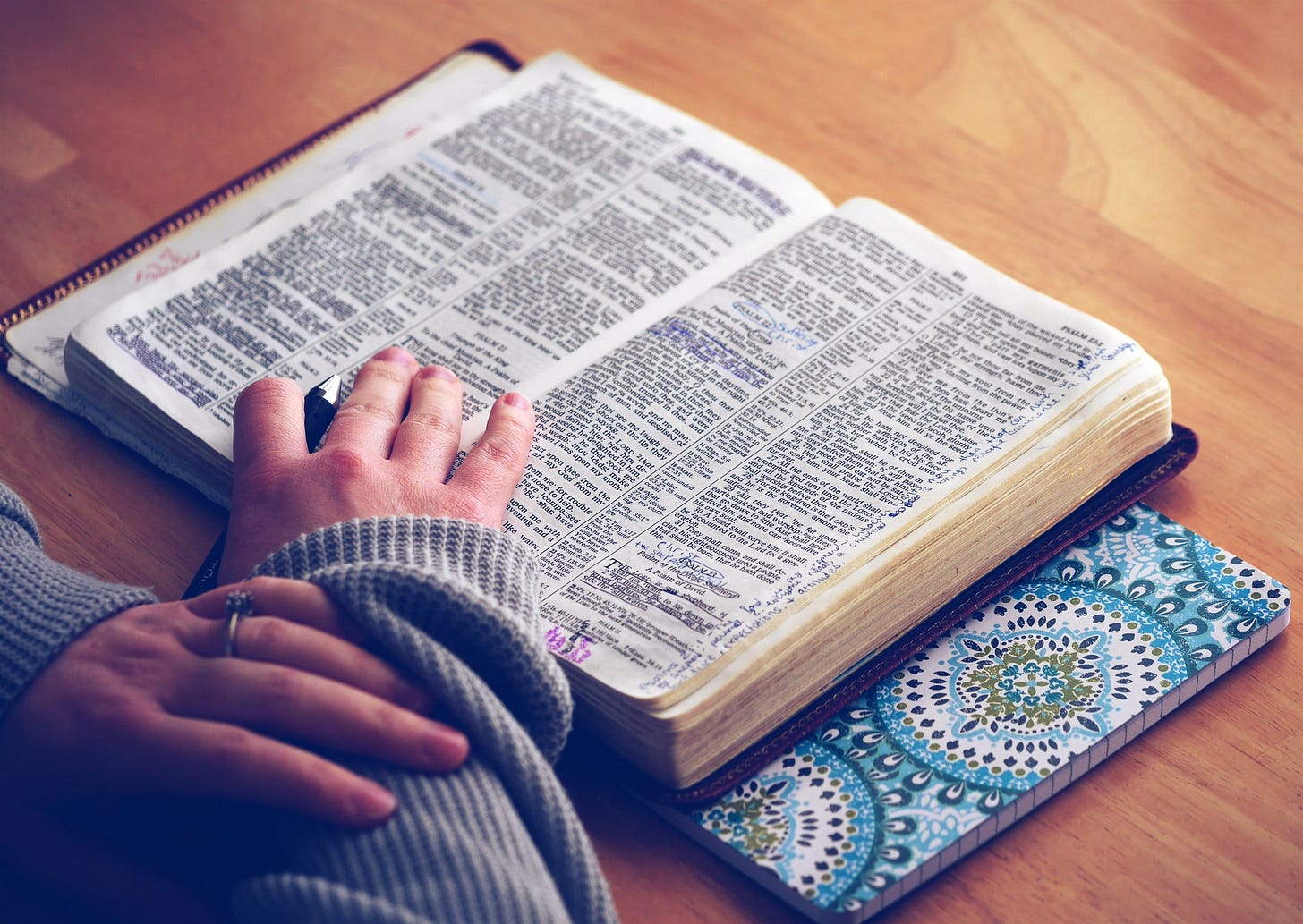 This last week was our family's sort of "spring break." The kids were off school and Matt determined to take time off of work even if we couldn't go on vacation. So, we enjoyed the benefits of staycation. Some big ones: no days spent packing and unpacking, no fussing over what to take/leave behind, no days spent en route. And a good friend of ours suggested there is great benefit in determining to enjoy in the surroundings where you live, rather than always escaping, just to return and see home only as the place of responsibility and duty.
So this week, we enjoyed our days of playing board games, reading new library books, going on picnics (at the Dairy Barn), playing with friends, de-cluttering the house, transplanting bushes, exercising, walking and, my favorite, daily nourishing our souls with the heavenly manna.
Matt made a new spot in the kitchen for our times of reading, meditation, journaling, emailing and writing. It's perfect! Right next to a window that overlooks our woods and wild field, with the perfect amount of light shining through. I spent many mornings there this week. I've been doing the practice of lectio divina, or sacred reading, which has been so nourishing. You can read about it elsewhere, but a quick description…
Read out loud. Pick a passage of scripture. It shouldn't be too long. Sometimes, it may just be a phrase; other times it can be a few paragraphs. Read it out loud (this is important! there is power in speaking it out loud, there's something to hearing your voice say the words, feeling them on your lips); read it out loud over and over again. One part may jump out at you; if it does spend time there. Don't try to figure out the meaning with your mind. This is not a time for grasping mentally (you can do this another time with study); this practice is to nourish your spirit. Believe that this is happening even if you don't understand what you are reading. Remember the Word of God is ALIVE and ACTIVE. It makes a difference in your life and heart. It is always working, always renewing. Treat it like a meal that you are getting for your spirit. Reading the words over and over is like chewing.

Meditate on it. If you've been reading the passage over and over, you have already begun this step. Now, take it a bit further by visualizing the words. Use your senses to imagine everything you can about them. Sing them, write them, speak them; whichever you feel led to do. This gets the words and meaning deeper into your soul. Meditating is like swallowing.

Respond to what you are reading. You may be moved to a time of thanks for the promises you've read; you may be moved to a time of prayer, praying for something in the passage that you want but feel you don't have. You may be moved to a time of repentance if the Word has exposed something insides of you that you want to change. You may just want to worship at the revelation of love the Lord has given you. All of these have happened for me this week in my response time. One time I responded by dancing. Maybe you'll respond by painting, or writing, or making music. Everyone is different and each time is different.

Rest. This is the hardest part, as we always tend to want to be doing something. Just rest. Once you've spent time entering into His presence, just rest there for a minute. Imagine yourself on His lap, or on the Potter's wheel… imagine He is massaging your heart, healing it, forming and shaping you, and you aren't doing anything but resting. You are completely trusting Him to do a work in you. You have entered into His rest.
So I know this all sounds a bit mystical. Yes. I'm okay with that, I think we need more of it in our western Christianity. The ancient Hebrew culture was rich with this kind of tradition, and we would do well to reintroduce it to our faith communities. This has been blessing me more than I can say all week… my soul and spirit are alive. His Word and presence does that!!! If you want to discover more about Lectio Divina, some great resource are:
"Come To the Feast" by Marchiene Vroon Rienstra. Excellent! It's not just about Lectio, it has so much more to it and I love this book.

"Be Still" DVD (so good! I saw this at a recent retreat and was SO inspired). Be careful though with some books on Lectio Divina, as some authors use this practice with other faith texts (Qu'ran, new age texts, etc). We want to open ourselves up to the Holy Spirit of God through the path of Jesus Christ, not other spirits disguising themselves as angels of light. There is a red carpet to God, laid down by the blood of Jesus, and if we try to go any other way we open ourselves up to all manner of spirits that will ultimately wreck us (and not in the good way!!!).
We took a lot of pictures this week, which I will post as soon as we find our camera cord…