Discover more from Matt & Lana
Writing Home of Matt and Lana Shaw
Be Stirred My Soul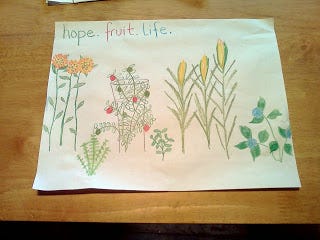 Today I drew a picture with my son. As I picked through the freshly sharpened colored pencils, I thought of a picture in my mind and set out to draw it best I could. I am not an artist (as much as I have openly wished it so) but I determined to put my best hand forward. I took my time. Instead of hurrying through the moment with my son to get on to my ever-urgent tasks, I steadied, I breathed, I imagined.
I was a girl, before me a vast sky of possibility, staring back as a daring and promising blank page.
I wish I could say I drew-and-colored something glorious. In truth it was quite simple, childlike even, but it represented hope and beauty to my parched, hurried soul.
They say you need to nourish your body, spirit and soul. I realized over the last five years I have gone in and out of seasons of discipline with the first two. I've feasted on words of Life and let heavenly melodies wash over my longing spirit. I've gone on long runs and gulped juiced carrots, and I've felt my body sing. But my soul... sure, I've read good books and every now and then have sat still to gaze at the radiant moon. But there's this part of my soul that longs to create, and honestly since becoming a momma that part of me has become increasingly subdued. It was never intentional. It just pretty much happened.
I don't blame it on my kids--in fact I know a lot of mommas that have become even more resourceful and creative, it seems, the more kids they have. I don't know why it has been different for me. I guess I just realized late that I had to do it on purpose if it was going to happen at all. But I haven't realized it too late. It's never too late.
I hope this blog, and my decision to be intentional with it, will be the beginning of many more stirrings of soul.